Taking Cutting-Edge STEM out of the Labs and onto the streets!
(D282)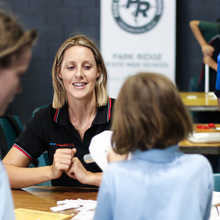 I am a passionate advocate and successful facilitator of STEM pathways for transforming young lives. As Griffith University's STEM Outreach Manager and a highly visible woman in STEM, I have led roles in impactful regional and state-wide STEM education initiatives on behalf of the multi award-winning Science on the GO! and other key government, community and industry stakeholders.
I work championing STEM for students at all levels by:
• providing pathways, leadership and engagement opportunities for school students,
• facilitating science communication and STEM event training to university students currently studying STEM & Education degrees and
• showcasing academics cutting-edge STEM research to the public.
At its core, my role is about fostering a scientifically literate community, inspiring school students to stay in STEM subjects. This is especially important for young women who are under-represented in STEM, but will need to increase this representation to have equal access to the future STEM-centric workforce.
Recorded Outcomes
Record an Outcome