Securing food for future generations
(D280)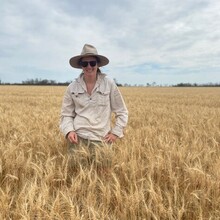 My work at the Queensland Department of Agriculture and Fisheries (DAF) directly and positively impacts the sustainability, productivity and profitability of cropping enterprises in Queensland.
I am the lead Technical Officer for a research project developing a farming system at Mungindi and Billa Billa. The project is funded by Grains Research Development Corporation (GRDC). The aim of this research is to maximise the performance of farming systems as measured by improved soil health and higher grain yield. My role is to coordinate field studies where different system treatments are applied under a defined set of management rules. My day-to-day activities include soil sampling, biomass cuts, planting, harvesting, spraying, monitoring crops, processing results into data collection and report writing.
The team is also involved in a variety of grain research projects that target key issues that limit farm productivity including research on cereals, pulses, nutrition, soils and farming systems.
Recorded Outcomes
Record an Outcome